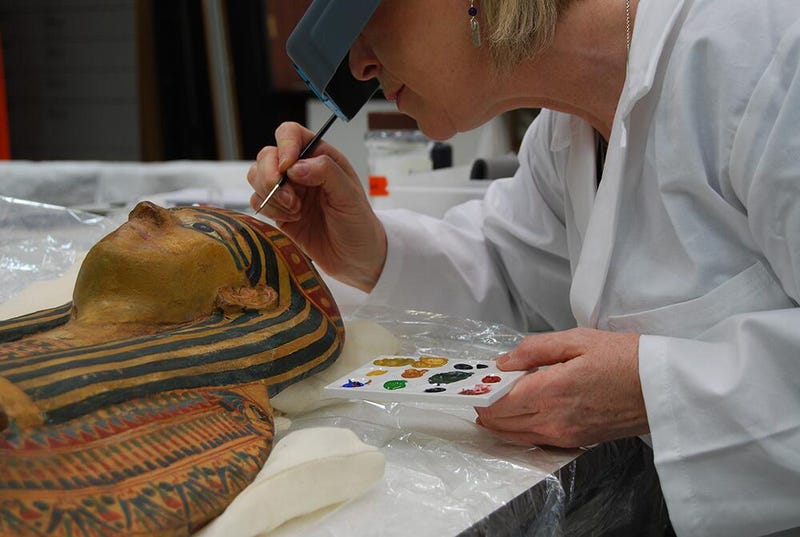 Following on the heels of the recent discovery of the world's oldest cheese crumbs found on a Chinese mummy's chest, the Warrington Museum is now reporting that they have successfully saved a 4,000 year old burial case from the growth of a mystery crystal.
Belonging to an ancient Egyptian temple worker named Pa-ikh-mennu, the coffin was given to the Warrington Museum in 1905 as a gift from the Egypt Exploration Society. The wooden coffin was preserved and restored over the years to maintain the piece's rich original coloring, but recently it was at the site of some of the 30-40 year old restorations that strange crystals began to form. While they seemed to be some form of rot or degeneration associated with some of the museums restorations, no one was quite sure what the white crystals were. Luckily the crystalline plague, which had begun lifting the ancient paints from the wood was tended to before it spread to more delicate portions of the mummy case which had not been restored.
The mummy has recently been returned to public display, and while most of the lifted pigments have been secured, many spots were beyond repair. The museum says that it does not plan on beautifying the affected spots as it would be misleading to visitors and future scholars. However future scholars and restorers may prove to be more interested in the spontaneous crystals that created the blank spots anyway. [Warrington Museum]
Image Credits: Warrington Museum
h/t Katherine Crouch
---
Eric Grundhauser is a Senior Editor at Atlas Obscura, the leading guide to the world's wondrous and curious places. Follow us on Twitter and Facebook!