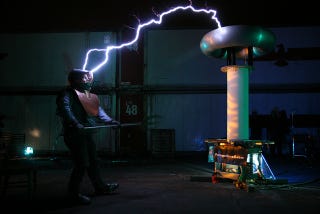 The gold-plated sphere that holds free energy pioneer/mad scientist/fan fiction staple Nikola Tesla's ashes has been on display in a Belgrade museum for over half a century, but now church officials have successfully pressured the Serbian government to intern Tesla's remains in a churchyard.
The Croatia-born Tesla spent most of his life in the United States where he dreamed up countless scientific innovations, many of which still seem like science fiction today. After his death in 1943, Tesla's ashes were moved back to his native Europe where they were put on display in a museum that carried his name. The iconic urn has remained a symbol of Tesla's devotion to science during his life, but now, under pressure from members of the Serbian Orthodox church and Tesla's descendants, the Serbian government has approved a measure to inter the golden sphere on the grounds of St. Sava Church, the largest Orthodox church in the world.
Despite objections from scientific groups who point out that Tesla was not a religious man, the reburial is scheduled to take place this July. While the move has already been approved, a number of groups are fighting back against the transfer, including the Facebook group, Leave Tesla Alone which has managed to garner over 30,000 fans who think Tesla belongs in a museum, not a mausoleum.
Read the original story at The Guardian.
To learn more about Tesla's life and the innovations he left behind, go to Atlas Obscura!