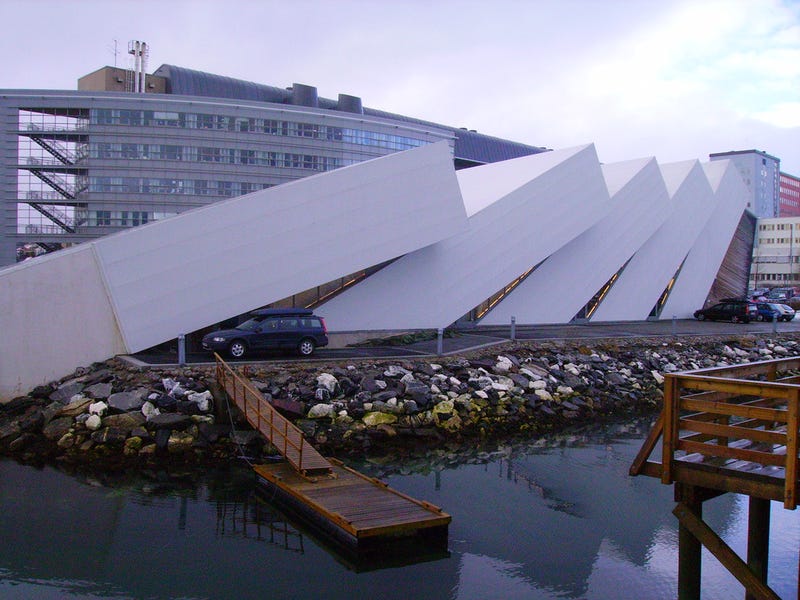 Located in Tromsø, in northern Norway, the awesomely-named Polaria is the world's most northerly aquarium and also looks as though the world's largest dominoes have been knocked over.
This arctic aquarium which opened in 1998, focuses on educating visitors about the exotic, freezing waters of the Nordic North. The museum portions of the aquarium feature displays on the Svalbard region as well as simulated permafrost, while the aquarium proper contains rare specimens of coldwater fish and other arctic marine life from the area. The main attraction is a large pool that houses a number of large bearded seals that visitors can get remarkably close to thanks to viewing bubbles in the tank wall.
Maybe the most remarkable aspect of the aquarium however is the building itself. It was designed to evoke massive ice flows that have pushed up against one another, breaking and stacking into a slated fringe. In effect the structure looks almost as though a series of building toppled into each other like a dominoes cascade.
Even visitors with no interest in the dark waters of the Northern seas will likely be struck by the aquarium's architectural wonder.
Image Credits: Rob Stradling, Lars Kristian Flem
---
Written by Eric Grundhauser, this is a slightly modified version of an article that originally ran on Atlas Obscura, the leading guide to the wondrous and curious places across the earth. Follow us on Twitter and Facebook!