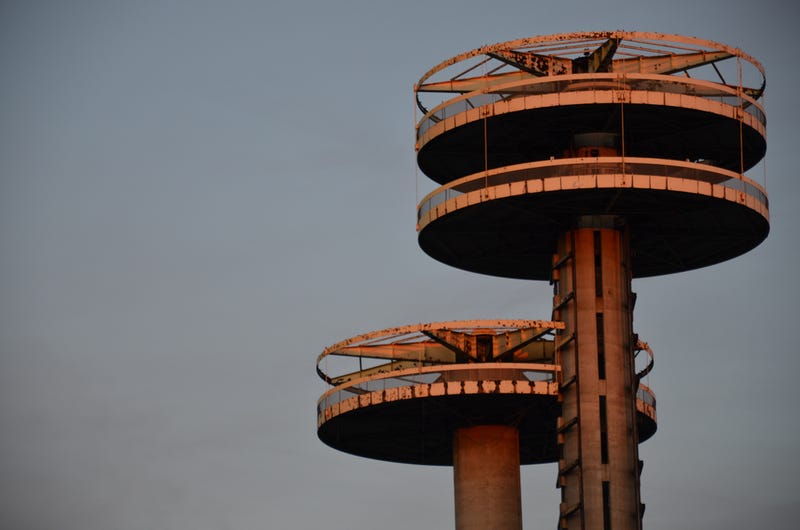 Built for the 1964 World's Fair and left standing to be featured in movies like Men In Black and The Wiz, the retro-futuristic New York State Pavilion has been closed to the public for decades, but thanks to the work of some conservationists, it is set to reopen for just a few hours this April.
Located in Queens' Flushing Meadows Corona Park, the pavilion consists of a ring of 16, 100-foot tall columns which once supported the main exhibition tent, and more iconically, a trio of towers of varying height which are topped with large circular structures. During the fair, the so-called "UFO's" atop the towers were used as cafeterias and observation decks, and could only be accessed via futuristic looking elevators that were branded, "Sky Streaks."
Once the fair ended, the pavilion was gated off and simply left to rust for decades, being attended to only when a film or other endeavor wanted to use the space. Then in 2009 a pair of fans of the site, John Piro and Mitch Silverstein, began working with the city to restore the structures to their former glory. Thanks to their efforts, the duo have managed to convince the city to open the site to the public during a scant few hours in celebration of the 50th anniversary of the 1964 World's Fair.
Thus on April 22nd, 2014, the New York State Pavilion will be opened from 11 a.m. to 2 p.m. Hard hats will be required, but this is a terrific chance to see the future through the eyes of the past. [Times Ledger]
Photo Credits: Joe Shablotnik, Matt' Johnson
---
Eric Grundhauser is a Senior Editor at Atlas Obscura, the leading guide to the world's wondrous and curious places. Follow us on Twitter and Facebook!