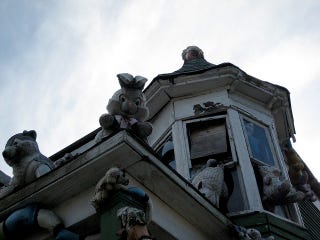 One Detroit artist's sprawling, 25 year beautification project which has covered a series of homes in whimsical patterns and all manner of bric-a-brac is being targeted in a string of mysterious arson incidents.
The Heidelberg Project began 25 years ago when Detroit native, Tyree Guyton returned to his Detroit neighborhood after serving in the military and found that it had become a cesspool of crime and fear. In an effort to rejuvenate the area both for visitors and locals, he began enlisting the help of area youth to decorate many of the run down homes. Using everything from signs to stuffed animals to refuse to paint, Guyton and his underage army decorated house after house over the years, giving the homes such names as, "The Dotty Wotty House" and "Faces in the Hood." The city of Detroit actually demolished many of the homes Guyton adorned both in 1991 and 1999, but each time he simply started all over again, eventually earning the respect of the city and fans worldwide. However the project now seems to have a mysterious new adversary.
In May of 2013 one of Guyton's houses, "Obstruction of Justice," was burned down in an incident that investigators ruled to be intentional arson. Then in November of that year, three more of Guyton's works were also burned down, followed by another in December. It is now being reported that yet another of the homes, "The Party Animal House," which was covered in stuffed animals, has also been burned down. While no one has been hurt in any of the incidents, no one seems to have any idea who could be behind the crimes either.
Check out more about Guyton's work at Atlas Obscura.
Image Credits: Donna Martin, Jamie, Sean_Marshall